This lightweight scooter easily separates into five parts, so you really can take it and store it anywhere. The heaviest part weighs in at just 14.5kg (32lb), meaning it's relatively easy to lift into a car boot or storage space. All this convenience demands no compromises in performance or comfort and the AirLite X has a range of almost 12km (7.5 miles) between charges.

Price Match Promise
Found it cheaper somewhere else?
Delivery Options
Choose between Room of Choice & Home Assembly
Documents
Manuals, guides and a printable overview
Take it anywhere, store it anywhere
Not all of us drive a large car or have the space at home to store a mobility scooter. With the AirLite X, that's not a problem. Its unique design means you can take it apart in seconds and it will fit into the boot or on the back seat of even the smallest car, so you can take it with you wherever you go. When you get home, it's easy to store it safely out of the way. It's the perfect scooter for compact living!
Ultimate portability
Easy to separate into five lightweight sections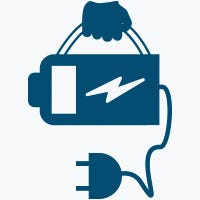 Off board charging
Just remove the battery box and take it indoors to recharge
Light yet strong
Lightweight but sturdy aluminium frame and puncture proof tyres
Take it with you wherever you go
If you have limited mobility, a scooter provides a valuable sense of independence. That is something you need never be without with the AirLite X. Take it with you in the car, quickly assemble it at your destination and you can get around safely and independently. It's perfect for visiting friends and loved ones, running errands in town or simply getting out and about to explore new places.
Simple to operate, comfortable to ride
The AirLite X has an intuitive control system and great manoeuvrability, with a turning radius of just 116.5cm (46in). It is simple to operate and you can navigate crowded or narrow spaces with confidence. The sturdy aluminium frame and comfortable swivel seat make it the perfect choice for anyone weighing up to 114kg (18 stone). Puncture proof tyres and an anti-roll back system complete the package.
Great performance and easy charging
The compact design and portability of the AirLite X demands no compromises in terms of performance. The powerful battery has a 10Ah capacity, delivering a range of up to 12km (7.5 miles). When it's time to recharge, the off board charging system means you can just remove the entire battery box and take it indoors to plug in. The AirLite X shows that great things really do come in small packages!
Optional armrests are available, please call to order.
Battery Size (Ah)
10
Battery Type
Sealed Lead-Acid
Off Board Charging
Yes
Range up to

(km)

12
Watt Hours
240
Front Wheel Size

(cm)

17.8
Ground Clearance

(cm)

5
Heaviest Part

(kg)

14.5
Incline Rating (Degrees)
12
Max Speed

(km/h)

6
Number of Wheels
4
Product Weight

(kg)

41
Rear Wheel Size

(cm)

17.8
Swivel Seat
Yes
Tiller Type
Standard
Turning Radius

(cm)

116.5
Tyres
Solid
Height

(cm)

82
Length

(cm)

101
Width

(cm)

49
This scooter's features include





---
Happy to assemble this product yourself?
Here's our guide
Or why not let us take care of all the heavy lifting for you?
Just choose Home Assembly at checkout.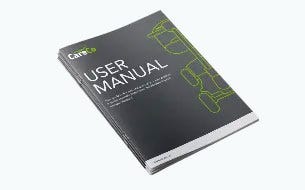 Manual
All the important info for your scooter, including assembly instructions if you need them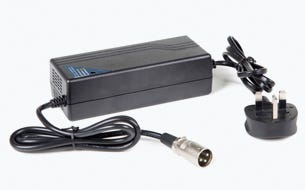 Charger
Your charger is included, so you can get out and about right away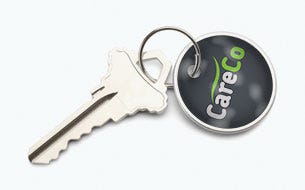 Key
Your scooter comes with a spare key, for extra peace of mind
All your questions answered
Hi there, I have just bought a Airlite X scooter and just cannot how to
I have watched the video on the Airlite X scooter, and I am very happy with my purchase. However, in the video, you just lift the battery off, to charge seperataly. But there must be a realise lever, to remove the battery? Also for transportation. I have purchased my scooter from your Beckenham branch. Can you please advise? Regards Mike
Submitted by Michael Clogg - Tiptree Essex
Hi Michael, all you need to do is remove the 3 pin power cable and then pull the battery box out. It will be secured with Velcro underneath, so it may be hard to pull out the first few times, but it is just a matter of pulling up on the handle.
What is diameter of wheels
Are tyres replaceable
Submitted by Peter Harris - Huddersfield
Both front and rear tyres are 7.5X 2.35.We can provide replacements and have some in stock..
What is the complete weight of this scooter?
What is the overall weight of this scooter?
Submitted by Rose - Wolverhampton
The total weight with battery is 41kgTotal weight w/o battery is 31.5kgThe heaviest part is 9.9kgThe battery weighs 9.5kg
How many batteries are in the sealed unit and how do you replace them when
Nothing more to add
Submitted by G Evans - Dudley Area
There are two 10Ah batteries in the pack. The batteries are replaced by removing the unscrewing the battery pack (you`ll need a long screwdriver, there are usually up to 12 screws depending on the model). Open the battery box, then disconnect the wires from the terminals, and then pull the batteries out. Sometimes the batteries are stuck in place with Velcro or wedged tight with foam to stop them moving around, so you may need to pull hard. Place in new batteries and connect each up with the correct cables - be careful not to cross the wires as this can cause electrical shock and circuit failure. Showroom assistants in our Dudley shop will be happy to demonstrate, and if you have any trouble in the future pop back to the store for help.
What is the turning circle?
Is it within the CPT guidelines for use on buses?
Submitted by Angelina - Totnes
The minimum turning radius is 1165 mm / 45.8, so is within the CPT guidelines of not exceeding 1200mm.
What is the length of the Airlite X,... in cms.....as I have to fit into
None
Submitted by David Wright - Staffordshire
The overall length is 101cm when put together. When the rear section is removed, the base is 86cm long.
Is the seat height adjustable and does the seat swivel?
Are these features available on any of the Travel scooters?
Submitted by Rob - London
Yes, the seat height is adjustable, with 4 positions, and it swivels 90 degrees - these features are common in most of our scooters. The product photos and manuals (found under Help & Advice) on the website show the various features.
What are the dimensions of the Seat
What are the dimensions of the Seat
Submitted by Jamie - Colchester
Thank you for your enquiry. The seat has the following dimensions: Seat Width: 43cm, Seat Depth: 40cm, Seat Height: 40cm.
Can the scooter be taken on trains and buses?
What type is the scooter?
Submitted by Carol - Coleraine
Thank you for your enquiry. This is a very compact mobility scooter which can be broken down for easy transport so it should be fine for use on buses and trains. I would however advise that you always check for the bus or train company before travelling so that they can make any necessary arrangements to accommodate you. For more information why not call our Sales Team on 0800 111 4774.
Do you do payment plans through pip
Im on pip do you do payment plans
Submitted by David - STANFORDLEHOPE
Unfortunately we do not offer a finance option. Thanks
Can the scooter be stored upwright
do to lack off storage space can the scooter be stored upright
Submitted by Billy - Ulster
We do not recommend this, please call the sales line to discuss storage options. Thank you for your question.
Can the airlite work with an 18ah battery
n/a
Submitted by Dave Chance - Clay Cross
Unfortunately scooters are only able to function with the correct size battery, in this case 10ah. Thank you for your question.
Do you supply spare parts for the airlite In particular items like the
n/a
Submitted by Andrew J - Holyhead
We can provide you with new parts for the Airlite, please call the sales number to order any parts needed. Thank you for your question, feel free to ask us any further questions.
What type of battery does the careco airlite have please Airline are asking
None
Submitted by Melissa - Poole
Thank you for your enquiry,The airlite scooter has dry lead cell batteries, If you have any further questions, please do not hesitate to contact us
Can you purchase a spare key for a CareCo AirLite Travel Mobility Scooter
Can you purchase a spare key for a CareCo AirLite Travel Mobility Scooter
Submitted by Jason Lee - Larkhall
Thank you for your enquiry, the cost of a spare key would be 7.99 plus 2.95 postage and packaging. The code you need is SP01321. if you have any further questions, please do not hesitate to contact us.
Fancy taking it for a spin?
Test drive at your local showroom