Returns Information
We've made our returns process as simple as possible
So if the product you ordered isn't quite making the difference you hoped it would, don't worry. See below for all the details on how to return.
Returns made (really) easy

Keep your packaging
It makes returning products much easier

Collection available
To return bigger or heavier products

14-day returns
For a full refund on unused products
Our Returns Policy
Whether you ordered online or purchased in the showroom, our returns policy is the same - you have 14 days to return unused products still in their original packaging for a full refund.
Returns must go to our warehouse. We can't accept returns at our showrooms.
Please hang on to the packaging until you're sure you're happy with your product - returns are much easier if you've still got the boxes and bags it came in!
If the product(s) are not returned in their original condition with all necessary packaging, we reserve the right to charge for repair or replacement of any product(s) or packaging.
Unfortunately we cannot accept returns on product(s) that have been specially adapted to suit your requirements, or for products that can void Health & Safety regulations if used e.g. incontinence, bathroom or toilet products. A refund can only be given if the product(s) arrives faulty, damaged or incorrect. For incontinence products a refund can only be granted if you haven't opened the outer packaging/wrapping.
Our returns policy in the event of the death of a family member can be found here
How to Return
All the paperwork you need will have been included with your product, but if it's gone missing you can download our Returns form here
Returns can be made either by post (arranged by yourself) or via our collection service. If your product(s) were delivered by standard or next day courier delivery and you need us to collect it for a return, you'll incur one of the charges detailed below.
Our simple 4 steps process
#1

Self Arranged Return
Arrange a signed return delivery back to CareCo at your expense. Please keep proof of delivery.

CareCo Arranged Return
We can organise a collection at a convenient time. Please note that collection fees apply (see below).
#2
Contact us
Call or email to let us know you would like to return your item(s) and how you will be returning (self-arranged or CareCo collection).

Call us on
0333 015 5000

Email
#3
Returns Info
Fill out and attach the Returns label prior to collection/self-arranged return, so that we can process it quickly when we receive it. Lost the label? Download it here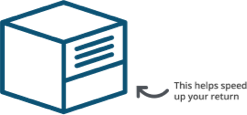 #4

Return Completed
Once the goods are received, your refund will be processed within 14 days.
Need us to collect your return?
Returns Collection Fee
Orders under £50
£6.00
Mobility Scooter
£50.00
Daily Living Aids
£15.00
Recliner Chair
£50.00
Walking Aids
£15.00
Power Chair
£50.00
Manual Wheelchairs
£20.00
Bedroom Aids
£50.00
Bathroom Aids
£20.00
Patient & Handling
£50.00