Why we exist
It's quite simple really. We're here to make every day a better day for you. To reassure you that even when your mobility changes, your life doesn't have to. And to guarantee that the best mobility products are as easy to find as they are to use.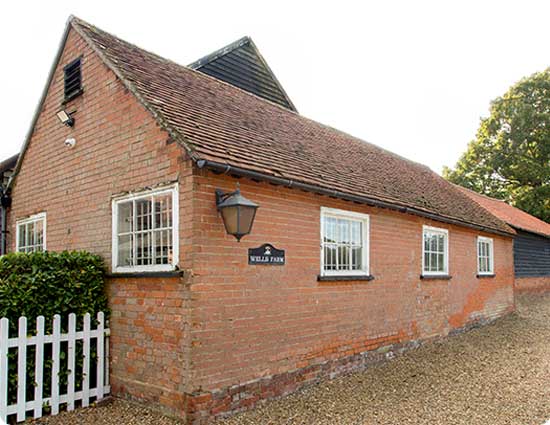 Where we began
It's true, we were born in a barn. And at first, it was just a smattering of mobility scooters and a scattering of riser recliners in there. But as we got bigger our barn felt smaller, and we decided CareCo needed a new home. Brentwood was the perfect place, and we're proud to have been a British mobility retailer based in Essex since our move in 2014.
We always wanted to develop our own products. Our first mobility scooter, the CareCo Zoom, broke the mould with a next-generation splitting mechanism that lets you store and transport your scooter wherever you like. Next came a range of riser recliners designed to keep you independent and comfortable in the home you love. (We've now helped more than 165,000 people find their new favourite chair). Then we realised that some of you needed help with lots of little things in your daily life, like managing medication, using the bathroom and getting dressed in the morning, so we added those products to our range too.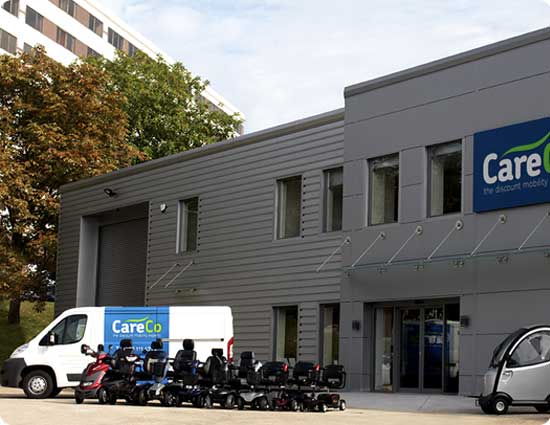 Our first showroom
We really value the importance of letting you get hands on with our products before you buy. So, from the very beginning, we knew that mobility showrooms would be a huge part of our operation. After successful launches in Brentwood, Birmingham and Hayes, you'll now find CareCo mobility stores across the UK in places like Canterbury, Glasgow, Leicester and Cardiff.
As we continue to open new showrooms and expand our business, we've become really quite fond of our teams. CareCo now employs more than 220 staff and we've built a fantastic community of people over the years, from the mobility experts who man our phones and staff our stores, to the delivery drivers, warehouse workers and engineers who keep everything ticking over. And of course, you - the people we design our products for.
"We're unique in the world of mobility because we recognise that you are, too."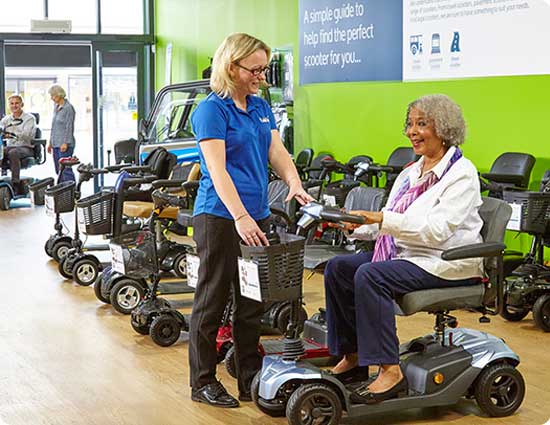 What the future holds
We're unique in the world of mobility because we recognise that you are, too. We've all got different needs, lifestyles and levels of mobility, and what works for one person might not work for somebody else. So our ultimate goal is making sure that everybody who needs a helping hand not only gets one, but that they get the one that works for them.
We'll do this by searching high and low for mobility aids that fit around your lifestyle, opening new showrooms so you can try before you buy, and making sure our prices stay unbeatable. All with top notch customer service whenever you need us.
Our history
We've had plenty of exciting milestones along the way, from our move to Brentwood to our first TV adverts. Here's to many more to come!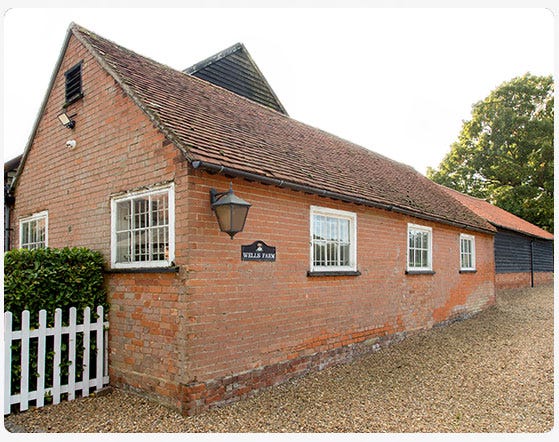 2009
CareCo begins in a 6,000 square foot barn
It's the beginning of CareCo Mobility as we start selling scooters and riser recliners from a barn!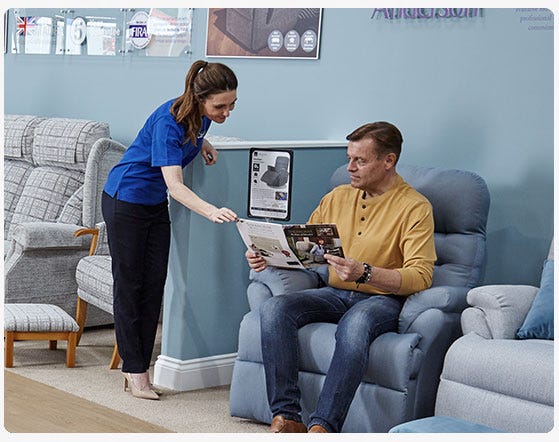 2013
Our first brochure goes to the printing press
We start posting our first print brochures, filled with our range of scooters and recliner chairs.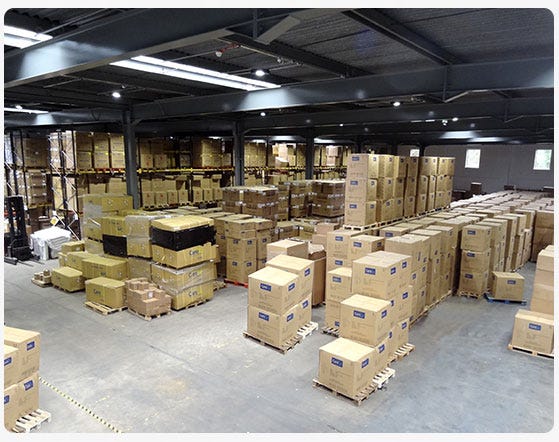 2014
We make the move to our Brentwood HQ
Needing somewhere a little bigger as our range of mobility aids grow, CareCo moves to Brentwood and we get to work filling our 50,000 square foot warehouse with products.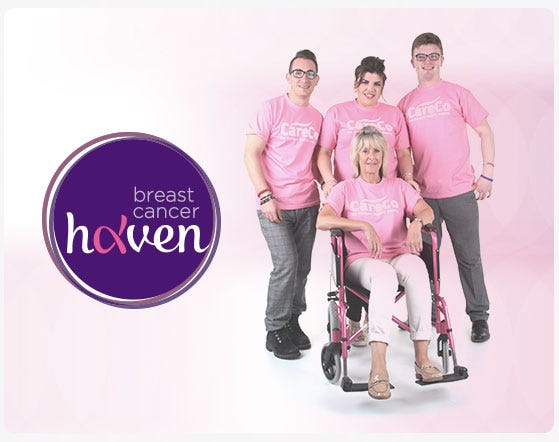 2015
Our partnership with Breast Cancer Haven begins
CareCo develops a range of products in partnership with Breast Cancer Haven, donating money from each sale to help them continue their fantastic work. We've now helped to raise over £11,000!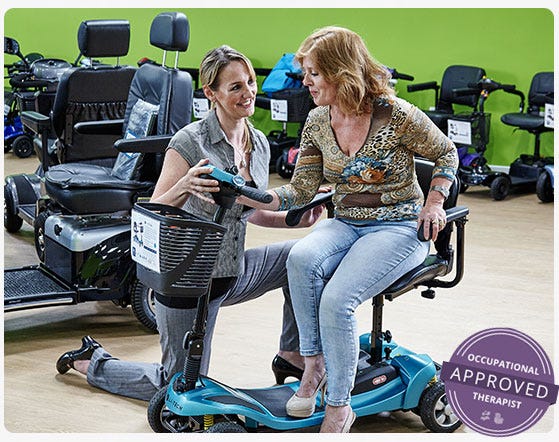 2016
Occupational Therapist Natasha Bruce-Jones joins
Natasha comes aboard to develop our range of products and help train our staff, so that we always recommend the right product to every customer.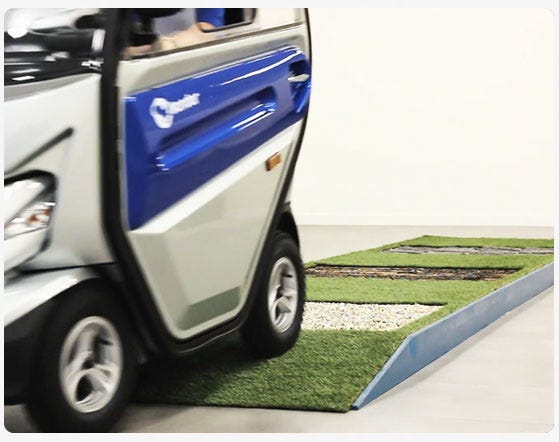 2017
Work is finished on the new CareCo test centre
The new CareCo test centre at our Brentwood HQ means we can shoot our own videos and test drive new products.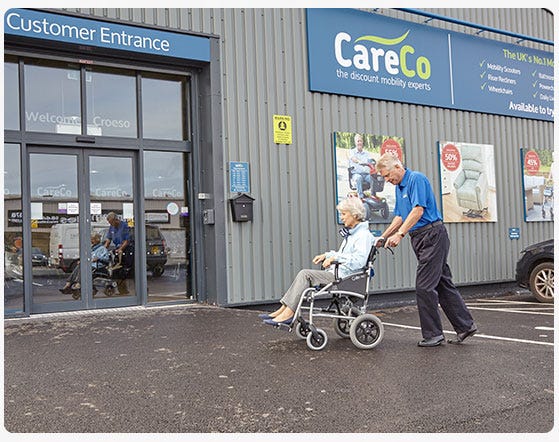 2018
Our first showroom in Wales
CareCo Cardiff becomes our first showroom outside of England, bringing our fantastic range of products to the locals of Cardiff and surrounding areas.
2018
Our first TV advert hits your screens
Our first adverts air on ITV1 and ITV3. CareCo is now the proud sponsors of ITV Afternoons!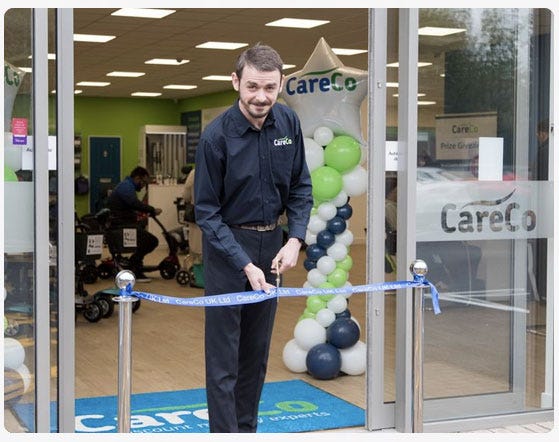 2019
Our first showroom in Scotland
CareCo Glasgow becomes our first store in Scotland, and marks the first time we deliver to a customer by boat!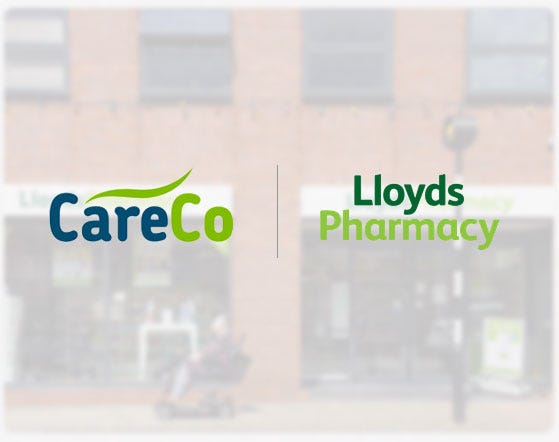 2020
Partnership with Lloyds Pharmacy
A proud moment as CareCo partners with Lloyds Pharmacy, with our brochures available in over 1000 stores and our products on the Lloyds Pharmacy website.
Some of our stats
Crunching the numbers after more than a decade helping our customers make life that little bit easier.
143,000+
Mobility scooters sold
220+
Members of the CareCo team
600,000+
Customers since 2009
165,000+
Riser recliners sold
Flagship products
Some firsts and some favourites from across our range of mobility products.

Our partnership with Lloyds Pharmacy
In April 2020 we were delighted and immensely proud to announce a new partnership with Lloyds Pharmacy.
This partnership means that you will see products from our range, including mobility scooters, walking aids, bedroom aids and more on the Lloyds Pharmacy website. It also means that you can pick up one of our brochures in one of over 1000 Lloyds Pharmacy stores.
With experts on hand to provide healthcare advice, an online prescription service for free delivery of your medication and services including flu vaccinations, blood pressure checks and diabetes screening, Lloyds Pharmacies are always there for you.
"We are always looking for ways to bring our customers closer to the products and services that can help improve their lives. Partnering with CareCo means we can support our customers and their families with finding the mobility products that are right for them so they can keep doing the things they love."
Angela Wale, Lloyds Pharmacy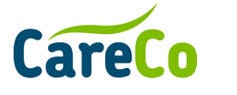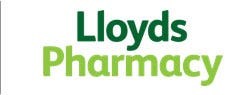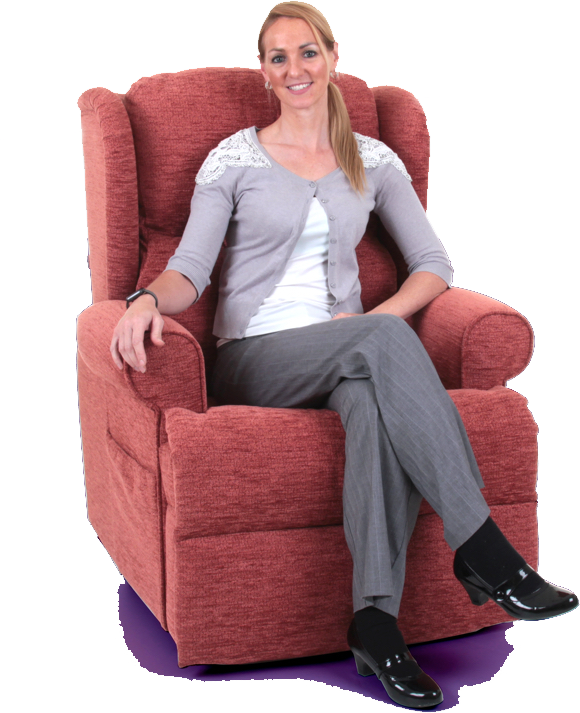 Meet Natasha, our
Occupational Therapist
A member of the British Association of Occupational Therapists, Natasha Bruce-Jones knows exactly how to make day to day life easier.
We've worked with Natasha to develop a range of products designed to help with common mobility issues, from sitting comfortably to walking safely and getting a better night's sleep. It also means that our advisors have a much better understanding of CareCo's mobility equipment, what it can do, and the type of people it works for.
"From large furniture items to the smallest bits of cutlery, I love CareCo mobility equipment because it can give untold freedom and confidence to the user. Equipment like this can make life so much more comfortable and stress-free, and stop people having to rely on others when they want to be doing things for themselves."
The extra little things
We go above and beyond here at CareCo, because we know it's the extra little things that can make the biggest difference.

Home Assembly
Leave all the heavy lifting to us. We'll show you how everything works and take any unnecessary packaging with us when we leave.

Price Match Promise
You shouldn't have to choose between finding the right product and saving money. Just let us know if you've seen it cheaper, and we'll match the price.

Environmental Responsibility
We recycle all our packaging, reuse parts where we can, and make sure that batteries are disposed of properly.

BHTA Members
As a member of the British Healthcare Trades Association, you can be sure of our commitment to excellent customer care.
Our customers love us...
We're the only mobility retailer with more than 33,000 real reviews on Trustpilot. That's a lot!
Our rating of 4.8/5 is from over 33,000 customers