The Dynamo combines maximum portability with an innovative control system that makes it a breeze to operate, even if you have limited use of your hands. The scooter can be disassembled into five components in a matter of minutes, meaning you'll have no trouble getting it into and out of the car. It also makes for simple storage. An off-board charging system and large storage basket all add to the convenience.

Price Match Promise
Found it cheaper somewhere else?
Delivery Options
Choose between Room of Choice & Home Assembly
Documents
Manuals, guides and a printable overview
Simple controls, complete portability
Limited mobility can affect more than your ability to walk. If you find it difficult to grip conventional handlebars, you might feel nervous about operating a scooter safely and comfortably. The curved delta tiller makes for easy operation and complete control. Combining this with the latest 5-piece splitting mechanism makes this the go-anywhere scooter anyone can operate.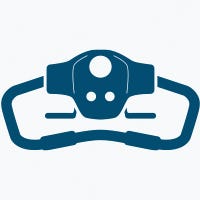 Delta Tiller Control
Oval tiller and paddle throttle designed for arthritic hands
5-piece portability
Separate with ease into five lightweight sections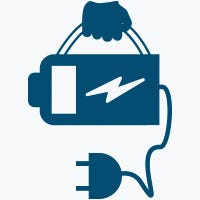 Off board charging
Just remove the battery box and take it indoors to recharge
Limited grip need not limit independence
The delta tiller bar is specially designed for those suffering from arthritis. Instead of the bicycle style handlebars, there is an oval-shaped tiller that you can control from any angle with the lightest grip. In addition, the twist-style throttle is replaced by a simple and responsive paddle. You'll be in complete control wherever you go, even if you are taking on tight turns in a crowded area.
Easy to transport and to store
When the first travel scooters entered the market, it became more practical to take them with you in the car or on public transport. But lifting them in and out of the boot or luggage area was still a challenge without assistance. The Dynamo separates into five components, the heaviest of which is just 14.5kg (32lb). It means it is both more manageable and more convenient to stash away at home or in the car.
Robust design with top quality materials
With its sturdy but lightweight aluminium frame, swivel seat and adjustable armrests, the Dynamo offers excellent safety and comfort for anyone weighing up to 115kg (18 stone). The high performance battery has a 12Ah capacity, which allows you to travel as far as 10km (6.2 miles) between charges. When it's time to recharge, you can take the battery box to plug in and leave the scooter right where it is.
Battery Size (Ah)
12
Battery Type
Sealed Lead-Acid
Off Board Charging
Yes
Range up to

(km)

10
Watt Hours
144
Front Wheel Size

(cm)

20.3
Ground Clearance

(cm)

3
Heaviest Part

(kg)

14
Incline Rating (Degrees)
6
Max Speed

(km/h)

6.4
Number of Wheels
4
Product Weight

(kg)

45
Rear Wheel Size

(cm)

20.3
Swivel Seat
Yes
Tiller Type
Delta
Turning Radius

(cm)

109
Tyres
Solid
Height

(cm)

81
Length

(cm)

100
Width

(cm)

48
This scooter's features include





---
Happy to assemble this product yourself?
Here's our guide
Or why not let us take care of all the heavy lifting for you?
Just choose Home Assembly at checkout.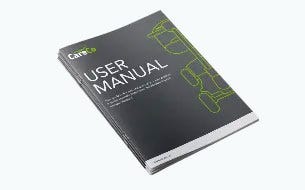 Manual
All the important info for your scooter, including assembly instructions if you need them.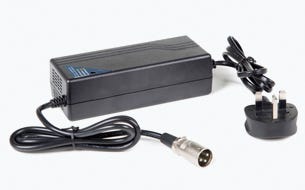 Charger
Your charger is included, so you can get out and about right away.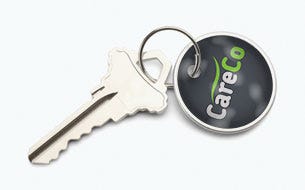 Key
Your scooter comes with a spare key, for extra peace of mind.
All your questions answered
Can I buy basket for the Dynamo scooter?
Can I buy basket for the Dynamo scooter?
Submitted by -
Yes, they are £14.99. Please call sales on 0333 015 5000 to place your order.
Dimensions of the basket
Can you tell me the dimensions of the basket please. I would like to know the dimensions so I can get a bed for my dog.
Submitted by -
Hi Susan,The top of the basket is 30cm by 20cm, narrowing to 20cm by 15cm at the bottom. It is 21cm deep.
Replacement baskets
Can I buy basket for the Dynamo scooter?
Submitted by Margaret - Chatham
Yes, they are 14.99. Please call sales on 0333 015 5000 to place your order.
Can you tell me the dimensions of the basket please.
I would like to know the dimensions so I can get a bed for my dog.
Submitted by Susan - Cwmbran
Hi Susan,The top of the basket is 30cm by 20cm, narrowing to 20cm by 15cm at the bottom. It is 21cm deep.
CareCo Dynamo charger
What is the battery amp of the CareCo Dynamo charger please?
Submitted by Mel - Dagenham
The scooter comes with a 24V/1.8A charger.
Do you sell a cover that goes on a dynamo scooter
I have seen some on other scooter which are completely clear and have a zipper on one side
Submitted by Mr B Clough - Brentwood
Thank you for your enquiry. We have available the CareCo Deluxe Scooter Storage Cover which is suitable for use with the CareCo Dynamo and can be found under product code: MS06127.
Can this scooter go into the boot of a car
Im looking for a scooter for my 26 year old daughterI would need a scooter to fit into the boot of our carhow easy it would be to assemble would be great
Submitted by Amanda - Swansea
The majority of customers have no problems trying to fit this into their boot, however we would recommend visiting a showroom so you can learn how to easily dismantle travel scooters and also try fitting one into your car.I hope this information helps you, thank you for your question.
Can this be used with one hand as i have limited mobility at left side
n/a
Submitted by Julie - Rotherham
Hi Julie, thank you for contacting us,We would recommend visiting a showroom as it depends on the individual, I am sure some would use this with one hand easily, however others may find it difficult. You can find details about our showrooms on our website.I hope this information helps you.
Why are my scooter lights going off and I have only 20 minutes power
It is second hand as just required for a six week recovery
Submitted by Elaine - Edinburgh
Hi Elaine, please contact us as we may be able to fix your lights with a call out. This call out does however cost 80.I hope this information helps you. Thank you for contacting us.
Batteries and casing
Hello we have a mobility scooter but havnt got any batteries or case for the batteries if i sent the make model to you could you let me know if you can get any batteries etc the price pleaseThank youM Dyer
Submitted by M Dyer - WestonSuperMare
Thank you for your question,Please call 0800 111 4774 to inquire. A sales adviser will be able to see if we stock your scooters battery case and batteries.We look forward to hearing from you.
What warranty and insurance do you give?
How do you accept payment
Submitted by Susan - Canterbury kent
Hi there Susan.As standard when you purchase a scoter from us, you receive a years free manufacture warranty, that covers any faulty parts/ problems caused in manufacture. You also receive 3 months free standard insurance, which covers you for accidental damage.You can chose to extend this and we would always recommend it as it is better to be safe than sorry. If you chose to extend your insurance that can cover you (for example) for public liability, in case you get into a accident and many other factors/ situations. A sales adviser would be happy to explain this in further detail. If you would like to know any further information, or even take out an extended warranty or insurance then please call the sales team on: 0800 111 4774.We can accept payment for insurance through you calling that number, which is the easiest way. Thank you for your question.
Just to comfirm please, is the seat height adjustable on the CareCo Dynamo
none
Submitted by Stephen - Glasgow
Hi there Stephen the dynamo has two different height settings, so please be aware there is not a range of heights to chose from.Thank you for your question.
would this scooter be able to be taken on an aeroplane
are the battery,s none spill type
Submitted by ken - morecambe
Hi KenCan The Dynamo Travel Scooter be taken on an aeroplane and is the battery non spill.All our batteries are non spill and aeroplane safe.You would need to check with the Airline you are flying with to make sure it will fit their criteria.I hope this helps.Thank you for asking
Interested in his model but clearance of 1inch?
Wanting to replace a ROMA ALCORA, for a model with detachable rear axle.
Submitted by Mary - Skelmersdale
The ground clearance is 1.2 Inches and can be broken down into 5 parts.
What is the overall weight of scooter when fully assembled including seat
michaelkate@yahoo.co.uk
Submitted by Michael - Wallington
The overall weight is 45kg when fully assembled
Fancy taking it for a spin?
Test drive at your local showroom