A Which? Best Buy for mobility scooters in 2022, the Abilize Stride Sport is all about effortless convenience and high performance. A streamlined design that doesn't scrimp on comfort, it features suspension for a smoother ride, a delta tiller bar for easy driving and a padded swivel seat for pressure relief.
Delivery Options
Choose between Room of Choice & Home Assembly
Documents
Manuals, guides and a printable overview
A Which? Best Buy Mobility Scooter
"The best collapsible Class 2 scooter we tested" - Which? Magazine. This extended range scooter is all about maximising comfort, ensuring you can travel every day without aches and pains. It achieves this with a specially designed rear suspension system that neutralises every bump and jolt. The seat is thickly padded and fully adjustable, while the delta tiller means you don't need a firm grip for precise control.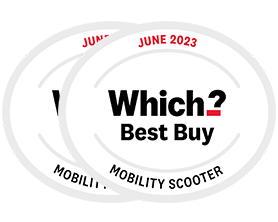 A Which? Best Buy
Recommended by the UK's consumer champion, two years in a row!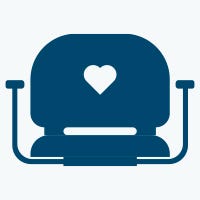 Miles of comfort
Superior suspension and a padded swivel seat
Car boot convenience
Separate into 5 light parts for simple storage and transport
Complete comfort and the smoothest ride
Which? Magazine says the Stride Sport offers a "smooth, controlled and comfortable ride indoors and outdoors". The rear suspension system soaks up every bump on rough and rugged terrain, while the padded seat reduces pressure build up. It all adds up to a scooter that will get you to your destination without giving you extra stiffness or aches and pains, even if your journey is one that uses its entire 17-mile range.
Easy operation at the touch of a thumb
The delta tiller makes the Abilize Stride Sport easy to operate and steer. Even if you have restricted dexterity, you can literally drive it with your thumbs, and the paddle throttle requires far less effort to use than a traditional twist grip. If you have arthritis or are living with other medical conditions that restrict your upper mobility, this scooter could be exactly what you've been looking for.
Take it everywhere, store it anywhere
"Straightforward to assemble and set up, it collapses down into five parts which should fit into car boots." - Which? The innovative splitting mechanism means you can separate it into five lightweight parts in just a minute or two with no tools needed. It makes the scooter easy to take with you in the boot or on the back seat of the car or to stow away at home when not in use, even if space is at a premium.
Battery Size (Ah)
22
Battery Type
Not specified
Battery Type
Sealed Lead-Acid
Off Board Charging
Yes
Range up to

(km)

27
Front Wheel Size

(cm)

22.9
Ground Clearance

(cm)

5.2
Heaviest Part

(kg)

17
Incline Rating (Degrees)
8
Max Speed

(km/h)

6.4
Motor Wattage
250
Number of Wheels
4
Product Weight

(kg)

55
Rear Wheel Size

(cm)

22.9
Swivel Seat
Yes
Tiller Type
Delta
Turning Radius

(cm)

145
Tyres
Solid
Height

(cm)

89
Length

(cm)

112
Width

(cm)

59
This scooter's features include





---
Happy to assemble this product yourself?
Here's our guide
Or why not let us take care of all the heavy lifting for you?
Just choose Home Assembly at checkout.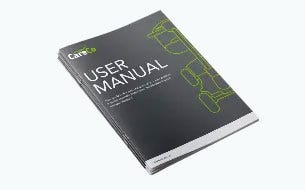 Manual
All the important info for your scooter, including assembly instructions if you need them.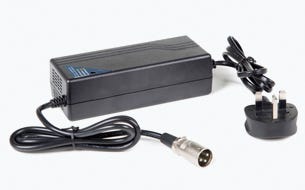 Charger
Your charger is included, so you can get out and about right away.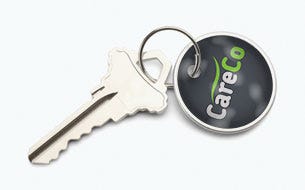 Key
Your scooter comes with a spare key, for extra peace of mind.
All your questions answered
How well does the Abilize Stride Sport scooter climb pavements. Does one
Does the scooter cope well with different terrains?
Submitted by Harvey Dagul - St Albans
Hi HarveyThe Abilize Stride Sport is a good all-round scooter and performs well on grass and dry, compacted soils. The ground clearance is 2 inches, so you cannot really go up and down kerbs - you should really always use a dropped kerb with all mobility scooters for safety and to avoid risk of damage to your scooter.
Handle bar height?
Handle bar height to the floor of the scooter? I have long legs. My overall height is 6ft 3inches.
Submitted by Clifford - tottenham
Hi CliffordThe handle bar height is 91cms at its highest adjusted point. We would always recommend that, if you`re able, to visit one of our showrooms to try the scooter before purchase.
Onboard charging?
Can you charge the battery when it is on the scooter or does it have to be removed to charge it ?
Submitted by Trevor - Dorset
You can either charge it on the scooter or remove the battery pack and charge indoors - the same charger is used, it just plugs into the battery box.
Does this scooter fold to fit in boot of car
How long does the battery last
Submitted by Mary powell - Dungannon county Tyrone northern ireland
This scooter does not fold, but it does dismantle into 5 pieces. The battery has a range of 17 miles when fully charged in optimal conditions.
Are your scooters weather proof for general use?
Are the controls proof against normal rain snow etc when in use ie if left outside a shop in the rain?
Submitted by Andy - London
Thank you for your enquiry. We do not recommend using our mobility scooters in the rain or other wet weather as this will likely cause damage to the scooter`s electrical circuits. We do have a range of mobility scooter covers and protectors available on our website which you could use to better protect your scooter in harsher weather conditions. If you require any further information please give our Sales Team a call on 0800 111 4774.
What is the gradient on the strider sport?
What is the ground clearance level?
Submitted by Barbara - Glasgow
Hi BarbaraThank you for your enquiry.The Strider Sport has a gradient of 8 degrees and a ground clearance of 5.2cm.Kind RegarrdsCareCo Web Team
Traveling abroad?
Does this scooter and batteries meet the standards for an aeroplane and also is the charger both 110v and 240v so it can be used in USA?
Submitted by Edward Carson - Scotland
Thank you for your enquiry. This scooter is suitable for air travel, however please contact your airline direct with regards to their specifications and requirements as each airline have different criteria. The scooter will be able to be charged in the United States however due to the lower voltage it make take longer than in the UK. For any further information please contact our dedicated Sales Team on 0800 111 4774.
Can I remove and charge my battery off board?
I will have to store my scooter in a garage as I live in a 1st floor flat but the garage has no electricity supply. Will I be able to remove battery easily and charge it in my flat?
Submitted by Joanne - folkestone kent
Thank you for your enquiry. The battery pack of the Strider Sport is removable therefore you would be able to charge it in your flat. We would recommend charging your battery at least twice a week, although every other day is best. Once your battery is charged you would just carry it back down when you`re planning to use it and slot the battery pack back into the scooter, and use it as normal.For any further information please call our dedicated Sales Team on 0800 111 4774.
Does this scooter have front and rear lights?
Does this scooter have front and rear lights?
Submitted by Jim - Aldershot
Thank you for your enquiry. The Abilize Stride Sport has both front and rear lights. For further information, please contact our dedicated Sales Team on 0800 111 4774.
How comfortable is the seat as I have spinal problems?
How comfortable is the seat as I have spinal problems?
Submitted by Sheila - Rochester Kent
Thank you for your enquiry. All our scooters are made with comfort in mind, however we do stock a Gel Comfort Cushion to add further comfort. To order call our dedicated Sales Team on 0800 111 4774.
How heavy is the seat and also the height
none
Submitted by Chistine - OLLERTON
Hi ChristineThe height of the seat from the floor is 22 inches and the weight is 10.7 kgThanks for askingKind regards
Will it do up to 17 miles?What is weight of Front section and back section/s.
n/a
Submitted by Archie - Milton Keynes
The weight of the front section is 17kg, that is the heaviest part. The battery weighs approximately 15kg, and the back section weighs 12.65kg.The scooters would come with standard delivery which is free on orders over 30 and is delivered in 3-5 working days however that is just a box drop off outside your door. We offer a service for 80, which is called an engineer delivery. This is where an engineer will come to your house and assemble the scooters for you, he will also demonstrate how to use the scooters and will answer any questions you may have. This delivery is organised by the engineers 7-10 days after orderingThank you for asking Mr Brown.
Is this a dry cell battery
I own a Rascal ultralight 480 and want bigger wheels and longer travel on each charge.Do you do part exchange
Submitted by Cynthia - Huddersfield
This battery is a 12V 24A H battery, which is a dry sealed lead acid battery.Unfortunately we do not do part exchange, thank you for asking us.
What is the length of the longest section when dismantled for carrying
What is the heaviest section and how much does that weigh?
Submitted by Christine - Ollerton, Newark
Hi Christine,The longest section is the front part which is approximately 90cm in length. This piece is the biggest and the most heavy, it weighs 17kg.Thank you for asking.
What size wheels?
What size wheels?
Submitted by kenneth - bournemouth
Hi Kenneth The Strider Sport has 9" in diameter wheels. Kind Regards CareCo Web Team
Fancy taking it for a spin?
Test drive at your local showroom