"The best collapsible Class 2 scooter we tested," says Which? Magazine. The Stride Comforter is the luxury upgrade on the Stride Sport, featuring a new padded captain seat for plush comfort and pressure relief over long distances. The scooter's extra large seat with headrest gives you the feeling of being whisked along in your favourite armchair and bumps from uneven surfaces are all soaked up by the suspension system.
Delivery Options
Choose between Room of Choice & Home Assembly
Documents
Manuals, guides and a printable overview
A Which? Best Buy Mobility Scooter
Fancy the performance and convenience of the Stride Sport, but after a little more luxury on longer journeys? Meet the Abilize Stride Comforter. It's got the same compact setup, effortless convenience and high performance as the Stride Sport, but with the sort of comfort you only find on top of the range mobility scooters. "A smooth, controlled and comfortable ride indoors and outdoors." - Which?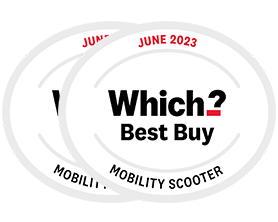 A Which? Best Buy
Recommended by the UK's consumer champion, two years in a row!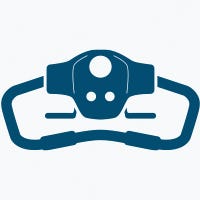 Easy to operate
Delta tiller bar and paddle throttle for weaker grips
Complete portability
Tool-free disassembly for easy storage & transportation
More glide for your Stride
When you use a scooter every day, it is important to be ready for all eventualities. The Abilize Stride Comforter's powerful LED headlights and rear lights ensure you can be seen clearly by pedestrians and drivers, even in gloomy conditions, whether you are in a crowded city centre or your local village. The anti tip wheels help maintain stability even if you find yourself facing a challenging gradient.
Long range battery is easy to charge
A maximum range of 17 miles (27km) is achievable due to the Stride Comforter's high capacity battery. When the time comes to recharge, the whole process is hassle-free thanks to the off board charging facility. It means you can easily remove the battery complete with its box and plug it in to charge indoors. When you put it back in the scooter, the patented battery pack locking mechanism gives extra peace of mind.
Total comfort, complete convenience
The larger seat and extra safety features of the Stride Comforter make it look a step above regular travel scooters. Yet it shares one important characteristic with them. The scooter can be split into five parts, meaning it is still practical to take it with you anywhere, and you don't need a car with a big boot. The heaviest component weighs in at just 17kg (27lb), lighter than your average holiday suitcase!
Battery Size (Ah)
22
Battery Type
Sealed Lead-Acid
Off Board Charging
Yes
Range up to

(km)

27
Front Wheel Size

(cm)

22.9
Ground Clearance

(cm)

5.2
Heaviest Part

(kg)

17
Incline Rating (Degrees)
8
Max Speed

(km/h)

6.4
Motor Wattage
250
Number of Wheels
4
Product Weight

(kg)

55
Rear Wheel Size

(cm)

22.9
Swivel Seat
Yes
Tiller Type
Delta
Turning Radius

(cm)

145
Tyres
Solid
Height

(cm)

112
Length

(cm)

112
Width

(cm)

62
This scooter's features include





---
Happy to assemble this product yourself?
Here's our guide
Or why not let us take care of all the heavy lifting for you?
Just choose Home Assembly at checkout.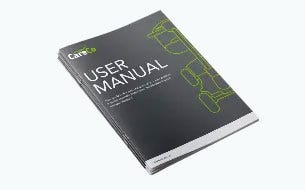 Manual
All the important info for your scooter, including assembly instructions if you need them.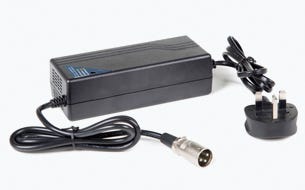 Charger
Your charger is included, so you can get out and about right away.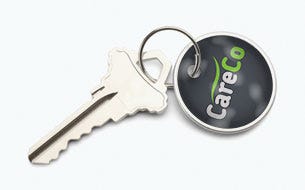 Key
Your scooter comes with a spare key, for extra peace of mind.
All your questions answered
Is the headrest removeable
Can you remove the headrest if you dont want to use it?
Submitted by Sarah - Bristol
Yes, the headrest comes off. You just press the height adjustment button and pull it up and out.
Can I store this scooter outside using a Careco Heavy Duty Cover during
Can I store this scooter outside using a Careco Heavy Duty Cover during winter?
Submitted by Michael OBrien - Warsop
Thank you for your question. We do have suitable covers for outside. Please call our sales team on 0800 111 4774 as we will be able to advise you better regarding your circumstances.
What is the maximum safe gradient that this scooter will ascend and descend?
What is the maximum safe gradient that this scooter will ascend and descend?
Submitted by Martin Fyfe Moir - AB PR
Thank you for your enquiry. The maximum gradient that the Abilize Stride Comforter can climb is 8 degrees. For more information please give our Sales Team a call on 0800 111 4774 and they will be able to advise you further.
What is the height of the backrest of the seat?
What is the measurement for the backrest of the seat and also what is the measurement with the seat folded down height from floor to seat in folded position?
Submitted by Sally - Newcastle under Lyme
Thank you for your enquiry. The height of the backrest excluding the headrest for the Abilize Stride Comforter is 45cm and the total height when the seat is folded down is 74cm. For more information why not give our Sales Team a call on 0800 111 4774.
My dad is thinking of purchasing a stride comforter scooter can he use
As above
Submitted by Tracey - Oxfordshire
Unfortunately we cannot guarantee this, you would need to contact the coach company as they should know dimensions and disabled access. Thank you for your question.
Would I be able to home test drive this product before buying
Area I live pavements uneven and potholes
Submitted by John smith - Liverpool
Unfortunately not. The best you could do is visit a showroom, however we do not recommend using scooters over uneven surfaces as it could invalidate the warranty.
Would you accept partexchange in a deal for a new Scooter
I have a scooter just wondering if you would accept part exchange
Submitted by William Tilbury - Luton
Thank you for your enquiry, Unfortunately we do not part exchange on items. If you have any further questions, please do not hesitate to contact us.
Fancy taking it for a spin?
Test drive at your local showroom