A riser recliner can make an enormous difference to your comfort and independence at home. Choosing the recliner that suits you is about more than picking a colour – different shapes and setups will benefit some more than others, so it helps to think about your lifestyle and mobility before purchasing. Our buyer's guide explains the differences between single motor, dual motor and 4-motor riser recliners, to help you decide which is best for your living room.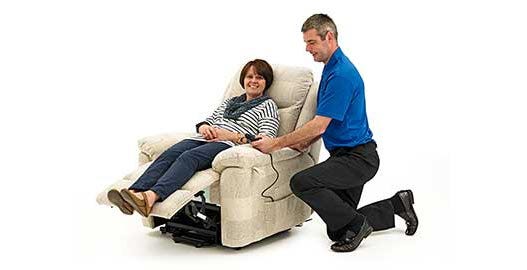 Motor Functions
Think about how much control over the position of the backrest and footrest you would like.

Fabric or leather?
The type of upholstery you choose depends on your lifestyle, style preferences and budget.

Chair size
Make sure the seat height, width and depth are appropriate and offer the right level of support.

Room size
Unlike standard armchairs, most riser recliners must be positioned away from the wall to work properly.
How could a Riser Recliner help you?
You might want to consider a riser recliner if your favourite chair has started to leave you with aches and pains, or you've been finding it difficult to get yourself up and down from the sofa. The built-in riser motor gently lifts you to a standing position and lowers you to a seating position at the touch of a button, taking the strain off your joints. Rise and recline chairs can also help to relieve back pain, foot pain and circulation problems. The option to change the position of the chair as you sit means it is easy to relieve pressure as and when you need to, reducing the risk of pressure sores, improving your posture and boosting your circulation. This is particularly important for those who spend a lot of time sitting in their chair throughout the day. And if you fancy a quick nap (extended periods of time sleeping in a riser chair is not recommended), the near-horizontal position is very comfortable.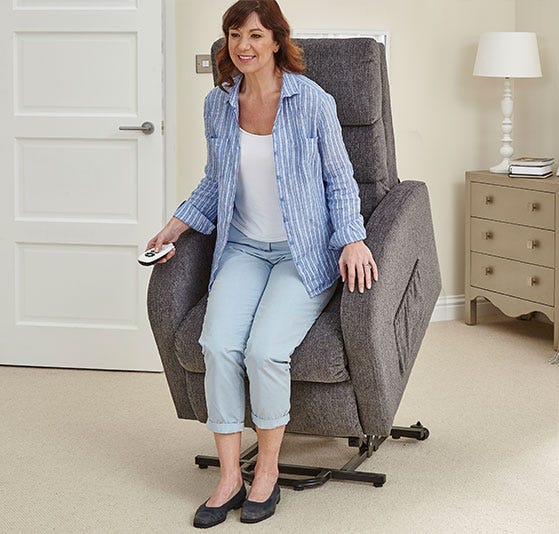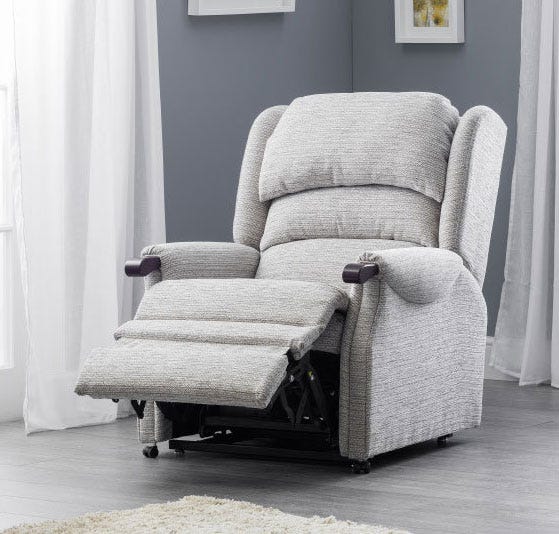 Which features should you think about?
Several different features will make your perfect riser recliner. Choosing a backrest is a question of what feels more comfortable to you, but different styles do have specific benefits. For example, waterfall backrests have separate pillows with a zip to let you adjust the amount of filling. This is ideal if there are specific areas of your back which need extra support and pressure relief. Wooden knuckles on electric riser chairs can be easier to grip when standing up from the chair, especially for those with arthritis or weaker hands and wrists. You might also want to consider a heat and massage recliner. These chairs offer the soothing benefits of heat and massage therapy, extending from the upper back to your lower legs with different variations and intensity settings to choose from. Heat and massage can be an effective treatment for muscle aches and pains, and can encourage better circulation.
Why is the size of your Riser Recliner important?
As with any piece of mobility equipment, you need to make sure your riser recliner fits your body shape. The best way to do this is to visit a CareCo showroom before buying, but you could measure a chair at home and compare the measurements with those listed on our website. When it comes to sizing, make sure your head and shoulders are supported by the backrest and that your arms lay completely flat on the armrests. Your hips and buttocks should be as close to the back of the seat as possible. Check if you can place a clenched fist either side of your body. This tells you if the seat is the correct width. As for seat depth, see if you can place two fingers behind your kneecaps. Both feet should be flat on the floor when your heels are against the footrest. If you find a regular sized riser recliner is too big, you might consider a petite riser recliner instead.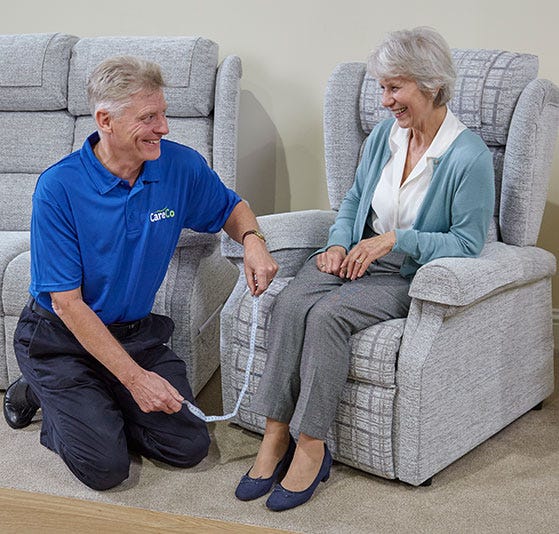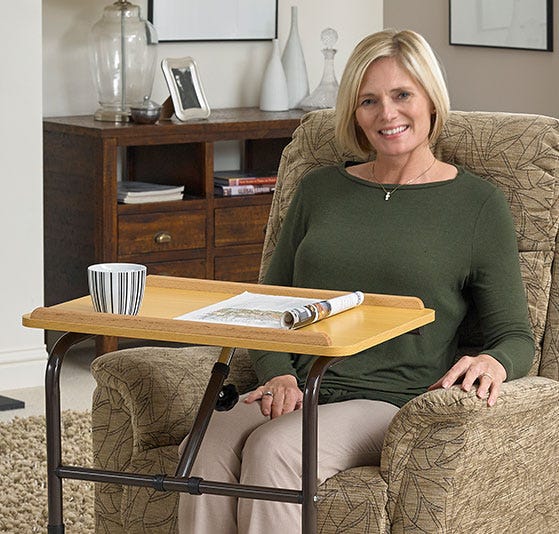 What about Riser Recliner accessories?
There are plenty of accessories to help you make the most of your riser recliner chair. If you're after extra support and comfort, you could add a memory foam cushion or use an inflatable neck collar. Over-chair tables let you stay seated while eating or working, with lipped edges to stop items rolling off and adjustable stands to help you find the right height. Waterproof chair protectors are a useful addition for those prone to accidents. You will also find a selection of lamps and other lighting accessories, as well as warming blankets and slippers to kick your comfort up another notch. For extra reassurance, think about adding a battery back-up unit to your riser recliner, so that the chair can continue to function in the event of a power cut. Some electric recliners come with this feature already included, but it's always worth checking if you think this is a feature you'll need.
Keeping your furniture protected
Whether you opt for a fabric or leather riser recliner, a Guardsman plan can keep your furniture looking as good as the day you bought it. With over 100 years' experience, Guardsman know what it takes to protect and care for furniture. They offer two different levels of protection plans, tailored to your budget, to cover your riser recliner for accidental damage (tears, rips and burns, for example) and accidental stains.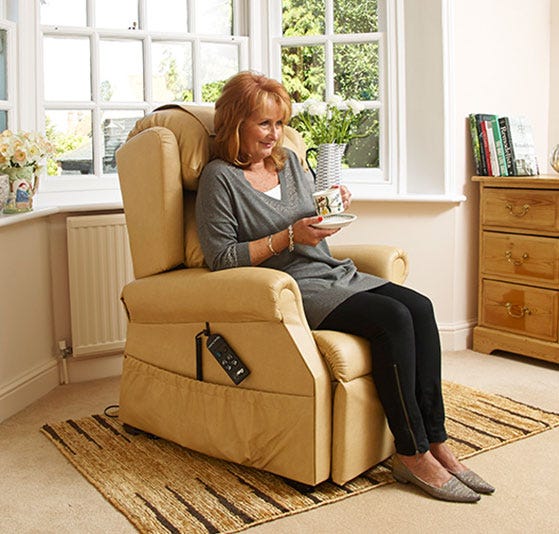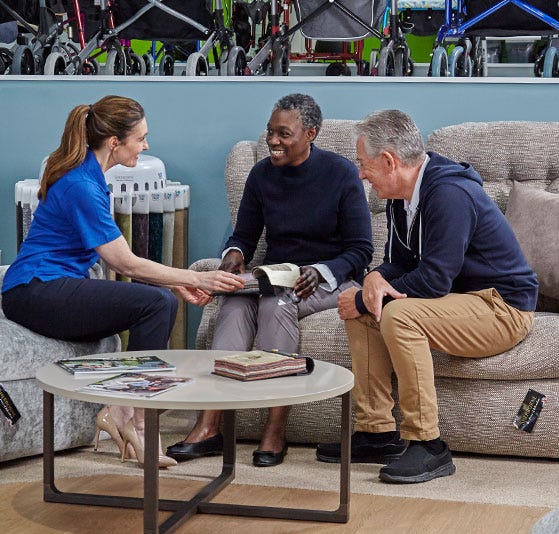 Getting your Riser Recliner delivered
After you've chosen your new chair and picked all your preferred options, we'll ask you how you want your furniture delivered. Our standard riser recliner chairs include free courier delivery to your door. They are supplied in two separate sections – the backrest and the base – and can usually be put together easily by anyone strong enough to do so. But if your home is on the second floor, your mobility conditions mean you'll struggle to assemble the recliner yourself, or you would prefer a more personalised service, why not opt for an engineered delivery? Your engineer will assemble the chair where you need it, show you how everything works and take all the unnecessary packaging with them when they go.