Insurance

If a problem occurs with your mobility product the last thing you want to be handed is a hefty repair bill. Insurance cover is the best way of protecting your product should anything go wrong, leaving you safe in the knowledge that you'll receive the best care and help to fix any faults.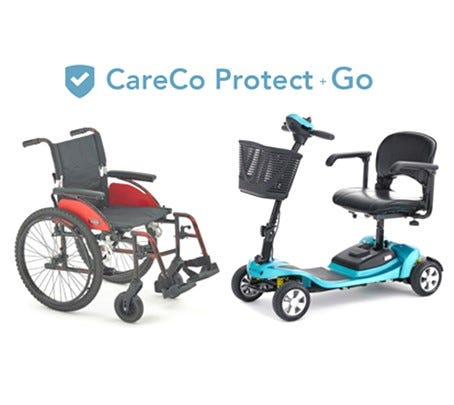 Reassurance with CareCo Protect + Go
We're so happy that you've already trusted us to provide you with products that make your life easier. And now, we're proud to say we're going one step further in protecting your mobility. With Protect + Go insurance, you're covered while you're out and about with your mobility scooter, powerchair, wheelchair or walking aid.
Key benefits
No age limit
Covers accidental damage, theft and vandalism
Puncture care for eligible mobility aids
Third party liability (not available on walking aids)
Enhanced policy gets you and your mobility aid home if you break down
Find out more about Protect + Go Insurance for your scooter, powerchair, wheelchair or walking aid.
Rise recliners
Riser recliners are expensive pieces of equipment, which is why it's important you protect yours. Established in 1915, with over 100 years of service to the public, Guardsman are dedicated to protecting and caring for your fabric and leather furnishings. We offer two levels of Guardsman 5 Year Protection Plans so you're sure to find one to suit your budget.
Key benefits
From £64.99
Five year cover
Available for fabric or leather
Accidental damage - tears, rips, burns etc.
Accidental stains - drinks, ink, paint etc.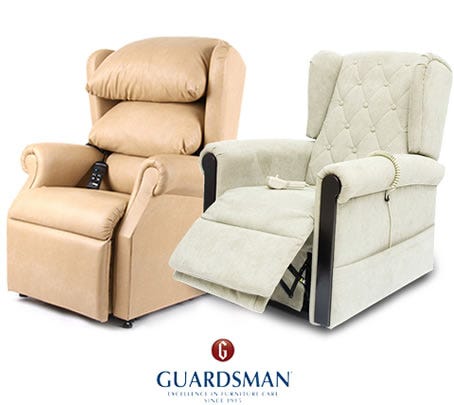 What products do we provide insurance for?
Insurance policies are available for mobility scooters, wheelchairs and powerchairs. Guardsman Protection Plans are available for riser recliner chairs. All products sold by CareCo include a 12-month manufacturer's warranty.
How do I arrange for repairs?
If you've discovered a problem with your mobility aid just give our customer service team a call on 0333 015 5000. You'll be asked a series of questions to diagnose the problem and to evaluate if there is anything we can assist you with over the phone. If the problem requires specialist help we'll then arrange for a qualified technician to repair the fault.
Does it matter how old my product is?
All products sold by CareCo include a 12-month warranty. If you're still within your warranty period and wish to extend it, you can check if your item is eligible for an extended warranty by calling our sales team on 0333 015 5000. If you find your product is outside of its warranty period, we may still be able to help.
If you own a mobility scooter or powerchair, our service plans can ensure your product is in perfect working condition. Available from £199, a service plan includes a 6-month product inspection and annual service performed by a trained technician. We can also arrange a one-off service for you (charges apply).
What are the benefits of purchasing Insurance?
Insurance policies are the best way of protecting your mobility aid should anything go wrong (damage, breakdowns, theft, vandalism) and provide a source of financial help to cover the costs of repair or replacement. Available for New, Used or Recon products, you can also choose between Standard or Plus cover, as well as the time span of your policy.