CareCo Aluminium Traveller
Light and compact yet with some great extra features, the Aluminium Traveller has it all. It is the chair of choice for those who demand the convenience of a lightweight portable wheelchair for travel but without having to make any compromises on functionality, performance or style. Chunky 13-inch rear wheels will cope with just about anything on your travels, yet the overall carry weight is a mere 11.2kg (25lb).

Price Match Promise
Found it cheaper somewhere else?
Delivery Options
Choose a delivery method that suits you
Documents
Manuals, guides and a printable overview
Sturdy design but completely portable
This stylish transit chair is all about robust durability with its sturdy aluminium frame, large rear wheels and tough padded armrests. Yet in a matter of seconds, it folds into a compact parcel that will fit into the boot of a car, the luggage rack of a train or a vacant corner at home, to store it out of the way. It's easy to take it with you wherever you go for faff-free travel on days out and on holiday.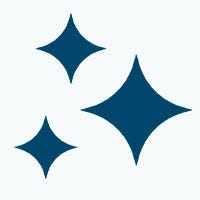 Nylon upholstery
Comfortable even for long periods and easy to keep clean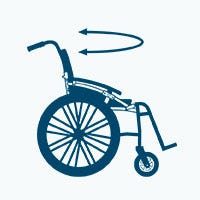 Compact and light
Perfect for travel, takes up minimal space when folded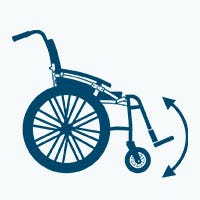 Swing away footrests
Unimpeded access makes it easier and safer to sit and stand
Travel anywhere in comfort and style
The Traveller was cleverly named, as you might not otherwise realise that this is a travel wheelchair. The robust appearance conceals the fact that this is a chair you can fold up in seconds and pop into the boot of the car. It's ideal for anyone who enjoys going on days out with family and friends, and who doesn't want to compromise on comfort and performance when using a travel wheelchair.
Great control and manoeuvrability
The Traveller is a great choice from the attendant's perspective, too. The lightweight aluminium frame is easy to push on a variety of surfaces, and the combination of 13-inch rear wheels and 8-inch castor wheels at the front offers maximum stability and manoeuvrability. Brakes operated from the handles provide an extra level of safety and control, while the handles themselves feature soft comfortable grips for your attendant.
Easy to live with, whatever your plans
Even if you're only an occasional traveller, this chair is a fabulous aid around the house and for local errands. It's a low maintenance chair thanks to wipe-clean materials and solid tyres, and when not in use, you can simply fold it up and pop it out of the way. If you need a transit chair that's ready to be called into use for any eventuality, this one should definitely be near the top of your shortlist.
Carry Weight

(kg)

11.2
Folded Width

(cm)

24
Front Wheel Size

(cm)

20.3
Half Folding Back
Yes
Quick Release Wheels
No
Product Weight

(kg)

13
Rear Wheel Size

(cm)

31.8
Seat Depth

(cm)

43
Seat Height

(cm)

50
Seat Width

(cm)

46
Tyre type
Solid
Height

(cm)

93
Length

(cm)

95
Width

(cm)

62
Crash tested
No
Max User Weight

(kg)

110
This wheelchair's features include





---
Happy to assemble this product yourself?
Here's our guide
Or why not let us take care of all the heavy lifting for you?
Just choose Home Assembly at checkout.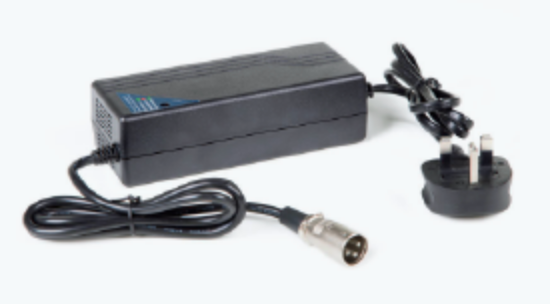 Battery Charger
Your scooter battery charger will turn off automatically when charging is complete, so you don't have to worry.

Spare Key
A spare key is always provided with our scooters.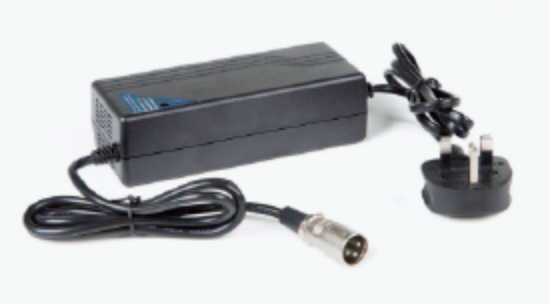 Shopping Basket
Fitted with a decent size basket or seat bag, so shopping on your scooter is a breeze.
All your questions answered
Can you please tell me the folded size of the wheelchair
to go into a car boot, ie height x width x length, with back folded and without footrestsThanks
Submitted by Valerie - Norfolk
HiThe folded size is:Length 25Height 29Folded width 10 (Outside Axle to outside Axle on rear wheels)
Do the brakes have a hold on (like a parking brake) facility
none
Submitted by David - Keswick
Yes, for Parking brakes push the plastic brakehandle with your hand towards the front of thewheelchair. Pull the handle back to release thebrakes.
Can you please tell me the folded height?
Can you please tell me the folded height?
Submitted by angie - portsmouth
The folded height on the CareCo Aluminium Traveller is 50cm. Thank you for your question!
can you please advise what the difference is between product weight and
looking for something light to lift in and out the car for occasional use only Maybe on 2 3 times a week
Submitted by Peter Murray - Northumberland
The product weight is the overall weight of the product whereas the carry weight is once the footrests have been removed for transport. This wheelchair is relatively lightweight and would be suitable for occasional use. It folds to become more compact so is designed for transporting in a car, we recommend using a wheelchair cushion with any wheelchair to increase comfort you can find a variety on our website, or you can call our sales line to enquire. I hope this information has helped you, feel free to ask any further questions.
Can you get the rear wheels with inner tubes or something that is not solid
it is hurting my mum going up the kerbs she in new to the wheelchair and my dad been in his 70s has problems with getting her up and down of them thank r maloney
Submitted by roger - Liverpool
To increase the comfort for your mother we strongly recommend using a wheelchair cushion, we have a range on our website, however I will give you the product number of a couple: Gel comfort cushion-RR07051 Gel pressure relief cushion-WC06082. We also have bariatric cushions if they were required, please call on the sales line to enquire. Unfortunately the wheels come as standard and can only be solid., however we feel using one of these cushions removes almost all discomfort when using a wheelchair. Visiting a showroom may be useful to them to find out which is most comfortable for both of them to use. Thank you for your question, I hope this information has helped you, feel free to ask us any further questions.
What is the overall width of transit chair opened narrow hallway and tight
What is the overall width of transit chair opened as we have a narrow hallway and tight turns in the house?
Submitted by Denise - Beeston
Thank you for your enquiry. The overall width of the CareCo Aluminium Traveller Wheelchair is 24 inches, which is 62 cm.
The description of this chair says it has solid tyres - are they solid
The description of this chair says it has solid tyres - are they solid plastic or rubber?
Submitted by joanne - torquay
Thank you for your enquiry. The wheels on the CareCo Aluminium Traveller are solid plastic.
Raising the handles
Please can you tell me if the handles can be raised?
Submitted by Nadiah - Ramsgate
Hi Nadiah,This wheelchair`s handles stay in one position/ height so are not adjustable.Thank you for asking, I hope this helps.
Find a wheelchair that suits you
Showrooms open 7 days a week