Lightweight and simple for straighforward help with your walking, the Venus represents a new generation of walking aids. The compact aluminium wheeled frame provides reassuring support and lets you walk more naturally than a traditional walking frame as you don't have to lift the frame with each step. It helps you to retain your balance when getting around and folds flat, making it easy to keep with you wherever you go.
Delivery Options
Choose a delivery method that suits you
Documents
Manuals, guides and a printable overview
The ideal aid for maintaining balance
If your main worry is keeping your balance when walking, try the Tuni Venus. The height-adjustable aluminium frame has wheels at the front and feet at the back, so there's none of the lifting and dropping that is necessary with a conventional walking frame, but it's still completely stable and won't move from under you when you lean on it. It's lightweight and foldable, and it even comes with its own detachable shopping bag.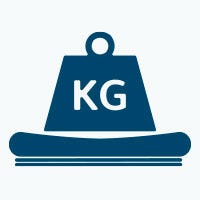 Light but sturdy
Weighs just 4.5kg (10lb) yet supports up to 135kg (21 stone)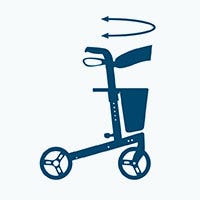 Folds almost flat
Just 11cm (4") wide when folded, easy to store or transport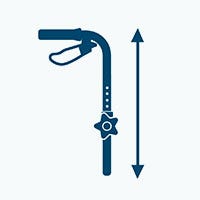 Fully adjustable
Get the height just right for improved posture and comfort
Natural walking with full support
The Venus takes the best aspects of a rollator and a Zimmer frame, combining them in one walking aid that is simple but effective. The front wheels permit a natural walking motion, but with rear feet, you know you have solid support to keep you steady without the need to reach for brakes. If your balance is not as steady as it once was, the Venus will give you the confidence to get around without fear of falling.
Store it anywhere, take it everywhere
The minimalist design of the Venus is both stylish and practical. A light pull of the levers folds it almost flat so you can easily store it in a cupboard at home or pop it into the boot or rear footwell of the car for easy access when you are out and about. The generously sized shopping bag slides on to holders on the frame and gives you somewhere safe for your essentials while leaving both hands free.
Better comfort and improved posture
If other walking aids have left you with an aching back or soreness in the wrists, the chances are they were either too low or too high. There's no risk of that with the Tuni Venus, as you can set it to just the right height and then lock it in place. You only have to do it once, and both you and your loved ones will really notice how it improves your posture.
Carry Weight

(kg)

3.3
Front Wheel Size

(cm)

15.2
Product Weight

(kg)

3.3
Height

(cm)

85-95
Length

(cm)

61
Width

(cm)

61
This walking aid's features include





---
Happy to assemble this product yourself?
Here's our guide
Or why not let us take care of all the heavy lifting for you?
Just choose Home Assembly at checkout.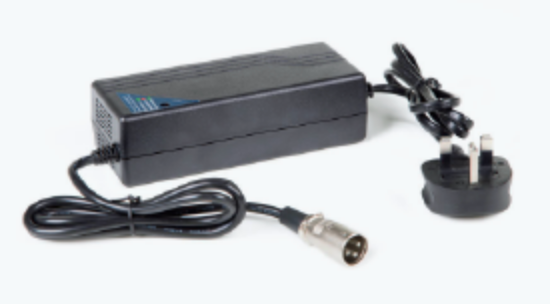 Battery Charger
Your scooter battery charger will turn off automatically when charging is complete, so you don't have to worry.

Spare Key
A spare key is always provided with our scooters.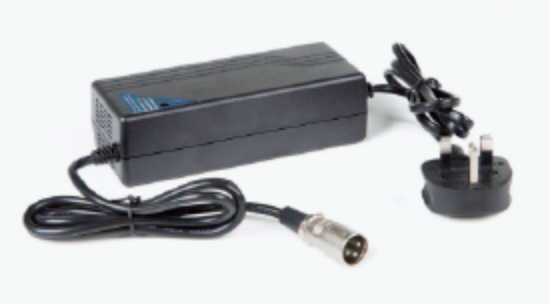 Shopping Basket
Fitted with a decent size basket or seat bag, so shopping on your scooter is a breeze.
All your questions answered
Try before you buy
With a visit to your local showroom