Customer reviews for "proLite Visage"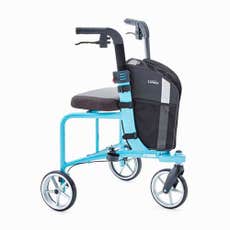 From £299.99 with VAT Relief
Modern and reliable tri-walker
Super strong aluminum frame
Spacious detachable bag
10-year frame warranty
View Product
Improving my quality of life

I was very pleased to find a tri-wheel with a seat, as four-wheel models are too cumbersome for a small house. For my needs the seat is not for a rest in the course of a long walk, but as a stable base for taking photographs, and doing things around the house.
It is relatively expensive, but you certainly get what you are paying for. First-class design and build quality. Easy to fold, and when opened a really rigid frame gives a secure feeling, with a smooth glide. A thoroughly satisfactory purchase.

Strengths

Design and build quality

Given me my confidence back

I bought this last month as I was going on holiday to Majorca and was concerned about queuing and walking a lot in the airport. I also needed something that I could get into my car boot myself. 200% helpful I'm very pleased with it

Strengths

Manoeuvres easily, lightweight

Proving to be just what i need.


Weaknesses

Cannot attach walking stick holder and there are no instructions

This Rollator is smashing, it's is lightweight and easy to manoeuvre, it has a solid seat, it folds up easily to transport. Just what I wanted, slightly dearer than I anticipated paying but definitely worth it for the benefits it has.

Strengths

Lightweight, manouvreable and easily transportable.

Weaknesses

Non really except maybe price.

Ice Blue proLite Visage Tri Walker

Due to Mobility Problems I had to relent and admit that I needed help with my walking. Since buying this Tri Walker last October I have to admit that I feel more confident when walking in the house. Hopefully when Spring arrives, I shall venture outdoors with it as I am longing to get into my car again, it seems ideal to fit into the boot of the car.
I am very happy with the Tri Walker although I have to admit that I thought I would never need help to walk around, we have no idea what life will throw at us.

Thank You CareCo for such a great TriWalker, it really has helped me a lot.

Strengths

The main strength is that I can walk with this Walker without fear of falling over.

Weaknesses

No weaknesses whatsoever.
Items 1 to 5 of 8 total
Page
You're currently reading page

1