Walking aids have come a long way since the days of the trusty wooden cane. Wheeled walkers are sturdier and more stylish than ever thanks to advances in construction and design, rollators and tri-walkers offer a smooth glide as well as somewhere comfy to sit, and crutches and canes now come in a range of colours and sizes. Our walking aid buyer's guide is the best way to find out exactly which type of equipment will suit you best.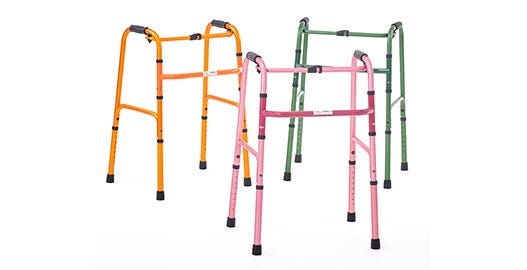 Equipment height
Will you need an adjustable frame to be able to walk safely and easily?

Seat
Would you like somewhere to take a rest after a long time standing or walking?

Wheels
Would you be able to lift a ferruled walker, or prefer to roll a wheeled walking aid?

Suspension
Do you need extra protection from rough and uneven ground as you walk?
Things to consider before buying a Walking Aid
The biggest decision you'll make when it comes to your walking aid is whether it has wheels or not. This should be based on a few different factors, like where you will be using your walking aid and your current level of strength, stability and overall mobility. The section below will help you make sense of the different types of walking equipment, to help you figure out what will work best.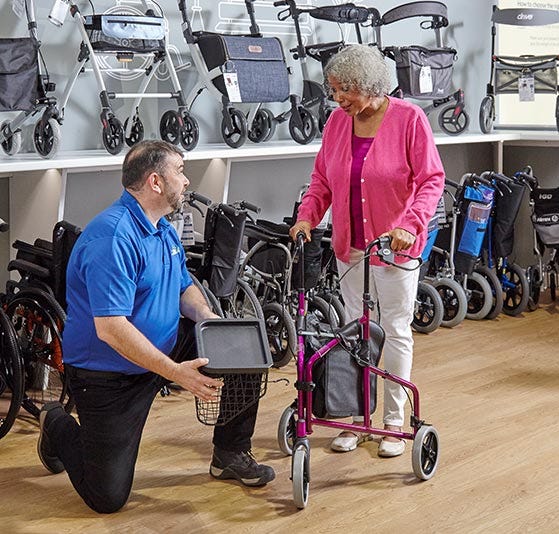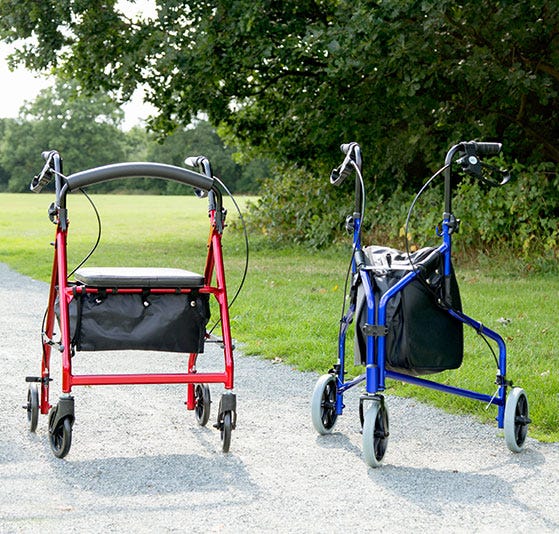 What are the differences between tri-walkers and rollators?
Tri-walkers and rollators might serve the same purpose – keeping you steady as you walk – but they have a few key differences in design. A tri-walker is a 3-wheeled walking frame, while rollators are fitted with four rolling wheels. This means that rollators will provide more stability, but tri-walkers are more agile and easy to manoeuvre, especially in busy areas. Tri-walkers are also easier to store as they have smaller, lighter frames and one less wheel to contend with. But that's not to say rollators cannot be stored or transported with ease – many have lightweight aluminium frames that fold quickly and can slide into your car boot or back seat. Many rollators and tri-walkers in the CareCo range share the same features, from seats to storage bags, so your choice depends on how much stability you need, how nimble you want your walking aid to be in busy spaces, and how light you'd like your equipment to be.
Will you travel mostly indoors, mostly outdoors, or a bit of both?
The type of terrain you'll be taking on is an important part of finding the right walking aid equipment. Rollators are the better choice for outdoor use. A 4-wheel frame offers more support on rough and uneven ground, and some are fitted with sturdier wheels better suited to the demands of longer distances. If you need a walking aid for getting around at home, our trolleys can be very useful. These wheeled walkers are fitted with detachable, easy to clean trays to help you safely carry food and hot drinks around the home.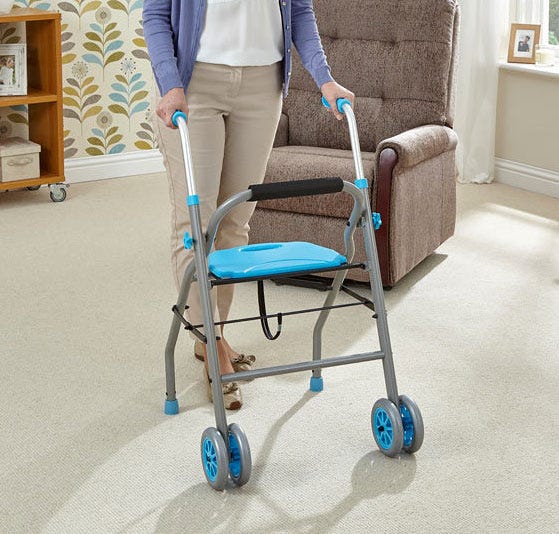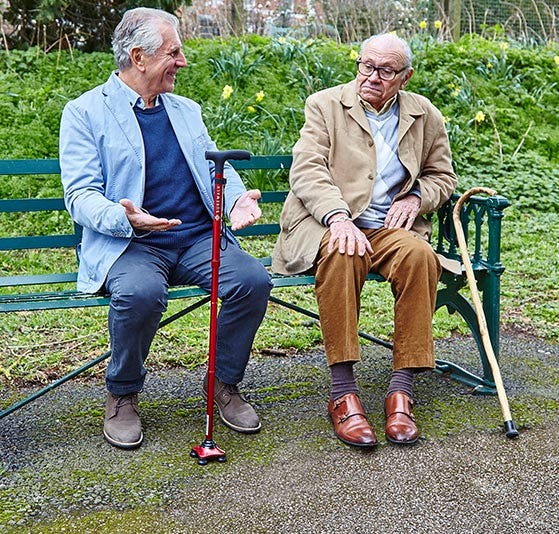 What other types of Walking Aid are there?
From walking sticks to crutches, canes and walking frames, there are plenty of alternatives for those who don't need the features offered by a rollator or tri-walker. A cane or walking stick can offer valuable support to those with moderately good balance, or with weakness on just one side of their body. Swan canes, quad canes and walking sticks with flexible pivoting bases all feature in our range. Just make sure you know how to use your walking stick, cane or crutch correctly to get full support from the equipment. Look out for ergonomically shaped hand grips, designed to fit more comfortably into the palm of your hand. We also stock knee walkers, a type of wheeled walker that require less upper body strength compared to crutches or walking sticks.
Walking Aid accessories
With a few simple accessories and attachments, your walking aid can become an invaluable part of your daily life. Some walking aids, like canes and walking sticks, can be used as accessories themselves, as an additional piece of equipment when you're out and about with a wheelchair or mobility scooter. Replacement ferrules protect you from slips, trips and falls when the originals are worn out, while walking aid attachments like the Safety Ice Grip and Stability Sensor can improve grip on hazardous ground.